Listen to the podcast
on Spotify, iTunes & Stitcher:
#031 Create Clients With Facebook Groups
Love it or hate it, Facebook is an incredible free marketing tool. One of the most valuable parts of this platform is the ability to harness groups to create clients.
As I'm sure you've heard me say before, clients are not created on Facebook. Or any other social media platform, or your website.
Clients are created in your mind with your thoughts. I'm not going to go into this too much today as I want to give you some fab tips on using groups to generate, nurture and convert leads into paying clients.
Listen to this episode for the basic group strategy I use in my own business. 

Read more…
#030 Creating VIP Days in Your Business
VIP Days (also called Intensives or Strategy Days) can be an incredible part of your business, offering huge value to your client/s as well as being highly profitable.
They are a way to work intensively with your client to deliver a particular result. In this episode I share all the details I can so you can create your own VIP Day in your business. I've done over 60 VIP Days in my business, helping clients to map out a strategy & mindset for success. As I no longer offer 1:1 work with clients & am all about the 1:Many, I thought VIP Days were a thing of my past.
But no! Group VIP Days work so well. I've done them in-person, including a London event (where I trained on business strategy in morning & did a mastermind session all afternoon) plus at my retreats. Now I'm creating one in my Signature program to do a Signature Program Kickstart.
Read more…
#029 Why you need a hybrid group program to scale to 6 & multi-6 figures
I love Signature group coaching programs SO much- especially a 'hybrid' one. By hybrid, I mean layers of support built in that isn't just '2 group calls a month'.
I teach The 1:Many Method which basically means using workshops to fill your Signature Program. This can be 1:1 or group program. By Signature I mean your process. The steps you take your clients through to get a result.
The aim for your group program is to get the best possible results for your clients. I believe having a hybrid Signature Program will do this better than any other business model. Even better than 1:1 work.
In this episode I share:
All of the 'elements' that can be included in your program.

How your hybrid program doesn't have to have 1:1 support with you.

What I'm doing in my business to scale to 7-figures with my hybrid group program.

Why you don't have to have a hard start & finish date to your program & what to do instead.
Read more…
#028 The Mindset to Scale to Multi-6 Figures  (& have fun along the way!)
Are you sacrificing your long-term vision for short term success? This is a question I'm always asking my mastermind clients.
Yes, we need to make money in the short-term. Every business owner needs to know how to create cash fast. Without cashflow- a business is not a business. 
I want every one of my clients to have a 'scaling' mindset. To scale your business means 3 things:
More clients

More money
Less time
I love working with a '3 year scale plan'. Of course we never know exactly where we will be in 3 years but if we have a scale plan then we know what we need to focus on over the next 6-12 months to move towards the 3 year goal.  
Read more…
#027 How to move past being a 'Starving Artist' with Teresa Haag
This week Sarah speaks with her client Teresa Haag about her transition from a corporate career to being a full-time artist & coach.

'I left a comfy corporate job and built my art business from the ground up…raising two babies, pinching every single penny.  I knew I was meant for more…but I just didn't know how to get there – so I figured it out, and in just a couple of years had a multiple 6 figure art business…but more importantly, was spending my days making my art, sharing it with people, and building a business and a life that I could have never imagined possible.'

Listen to this entertaining episode and hear how it's possible to go from the 'starving artist' mentality in any industry and create a multiple-5 figure business doing what you love.
Read more…
#026 The Secret to Becoming a THOUGHT LEADER in Your Industry
Recently one of my clients said 'it's easy for you because you're already a thought leader as a business coach'.

A "thought leader" is someone who is seen as an expert in a specific field; they're capable of introducing new ideas and influencing other people in the industry to make certain decisions or take certain actions.
This is why you need ONE Signature Thing to go all in with & own your thought leadership. 
In my former health niche, I was called 'the baby making lady'. I always maintained that the title was given to me by my students at the college where I lectured & supervised in the student clinic. 
Read more…
#

025 The 3 Reasons Why You're Not Making The Money You Want in Your Business
There are probably a lot more than 3 reasons you're not where you want to be in your business but today Sarah Leather speaks to the ones that stand out the most for her right now. If you're ready to take things up a notch then listen in to hear how you can move the needle in your business by having these 3 things in place.
Here's what you will learn in this episode:
Why doing all the things for all the people is holding you back (& what to do about it).

The simple thing that will move people from not taking any notice of you to wanting to follow you.

What to do with your free content to make sure that people are more likely to buy from you.
Read more…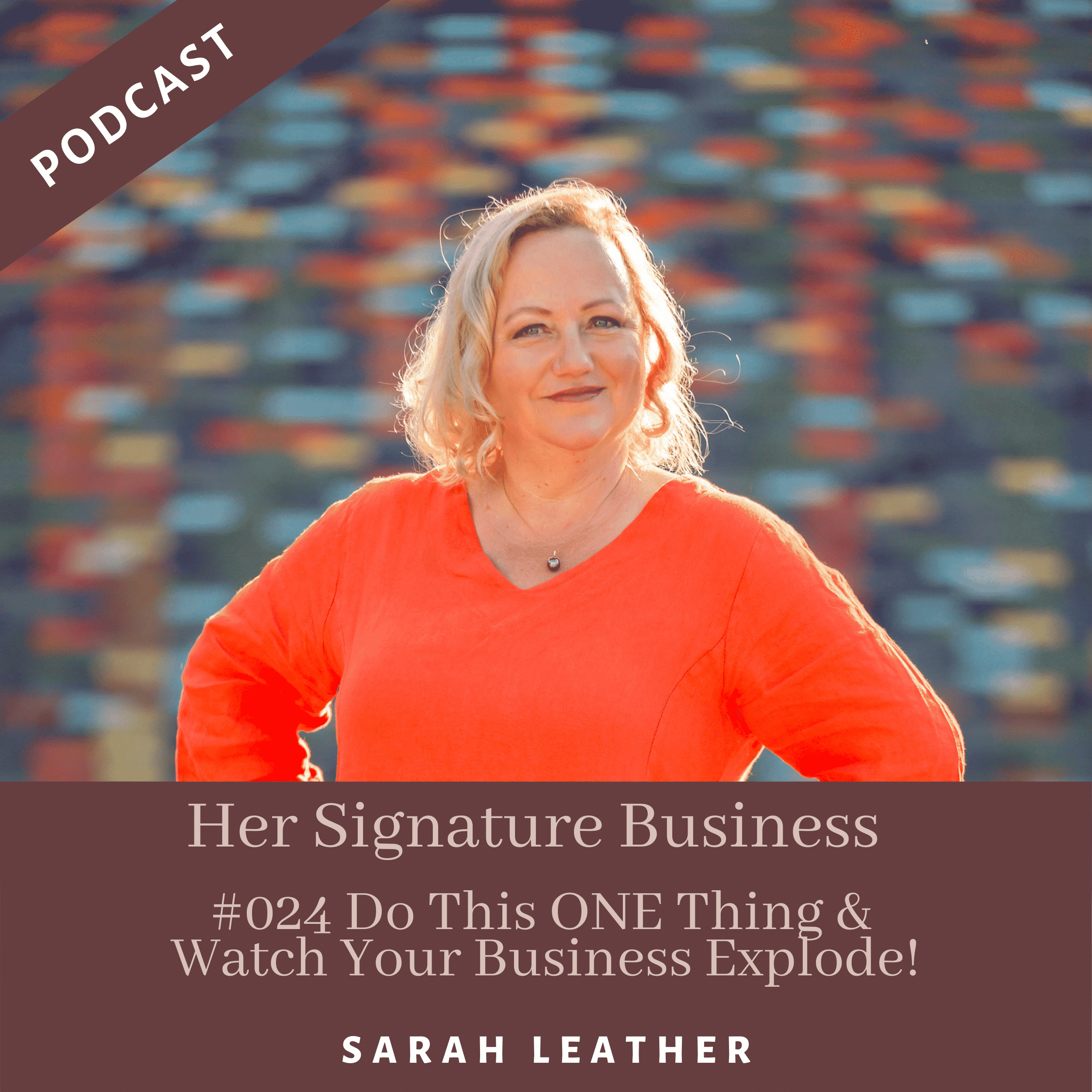 #024 Do this ONE Thing & Watch Your Business Explode! 
There's ONE thing that I encourage my mastermind clients to do every month in their business. I also do this one thing after everything. I've been doing this thing for years and it works.
I do it at the end of each week.
I do it after sales calls.
I do it after each launch.
It's called a CEO Debrief.  In this episode I share my CEO Debrief for my latest Signature Program School launch.
Read more…
#023 The 1:Many Method for Signature Business Success
It's been an amazing week at The Sarah Leather & co HQ with the arrival of a brand new home office. It's a beautiful bespoke building and was craned over our house onto it's resting place overlooking the Atlantic Ocean. 
It's been all good except for a bit of an internet drama when I was kicked off my own training call after the first 10 minutes! But luckily I have amazing support and it all worked out well.
I'm currently running 'The 1:Many Method' virtual retreat and sharing everything I can about creating a highly profitable business with your Signature Program.
The biggest struggle I see in my clients is lead generation. Getting enough clients to fill their program. This is where The 1:Many Method steps in.

In this episode I share:
What The 1:Many Method is.

The best way I know how to fill your Signature Program using The 1:Many Method.

The different ways you can run a Signature Workshop to fill your Signature Program.

To make sure you get access to The 1:Many Method free virtual retreat go to:

https://thesarahleather.com/retreat/
Read more…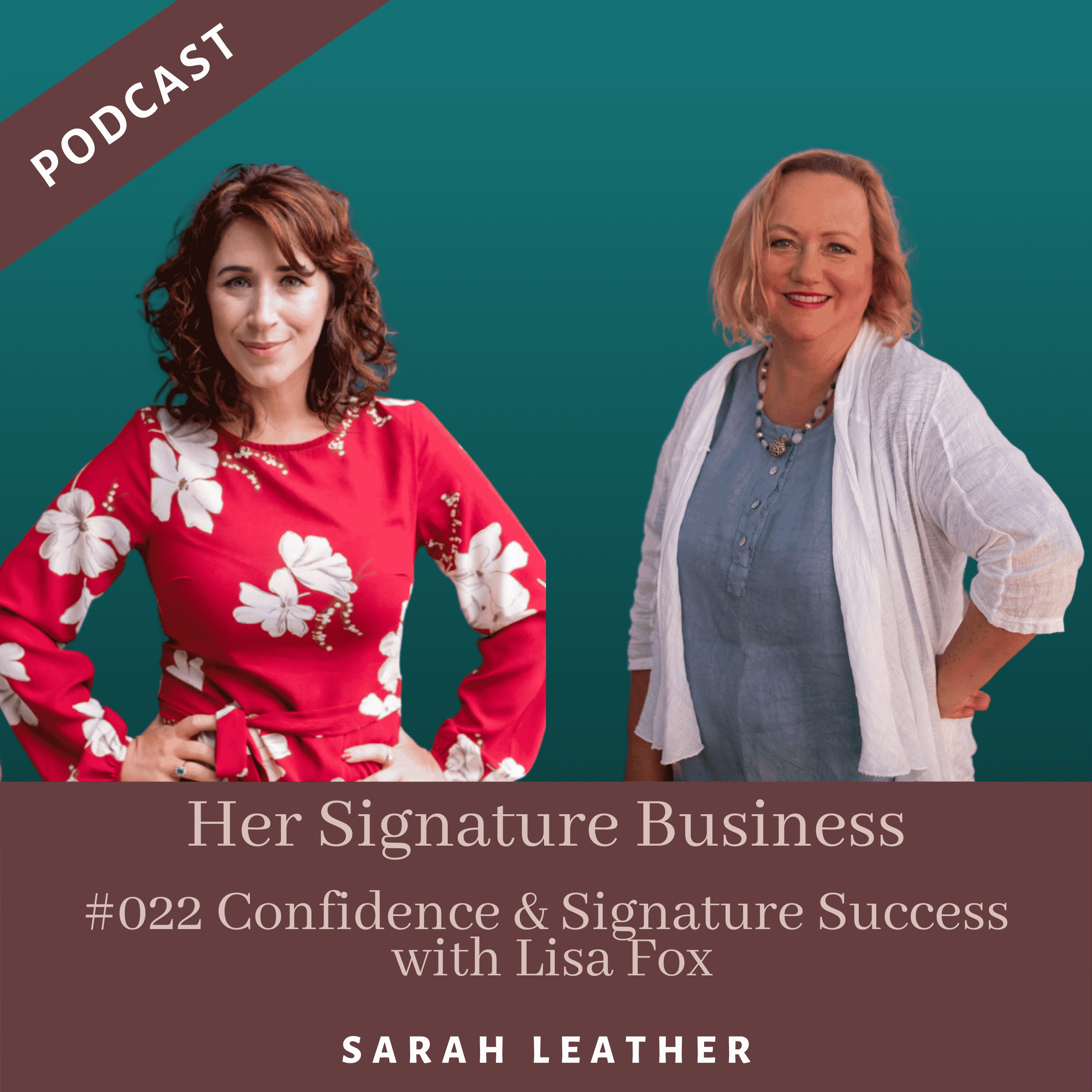 #022 Confidence & Signature Success with Lisa Fox
It's been an incredible week at Her Signature Business HQ!
We have a brand new office in the garden overlooking the ocean.
Client successes have gone through the roof, 10K+ months have gone from a distant dream to a reality for many.
One of those clients is Lisa Fox. Recording this episode was so fun. Be warned, there are one or 2 rude words!!! Lisa is a Confidence Coach for mothers and in this episode of Her Signature Business she shares her story of an (essential) pivot with her offline business at the start of the pandemic, pivoting again more recently to follow her heart.
Read more…
#021 How Online Business is Changing (for the better) 
The way we do business is changing.
For years I taught women to create great free content and invite potential clients onto an hour-long free consultation.
This worked well. Until it didn't. People don't want to spend an hour of their time talking about their problems and waiting to hear if your program is the right solution for them. And coaches don't want their calendar full of hour-long consults that people don't turn up to, cancel at the last minute or are not a good fit for their program.
It's way more about creating deep connections and being of service at a high level. Really understanding the piece of the puzzle that is missing.
What's working now is so much more profitable and fun! 
Read more…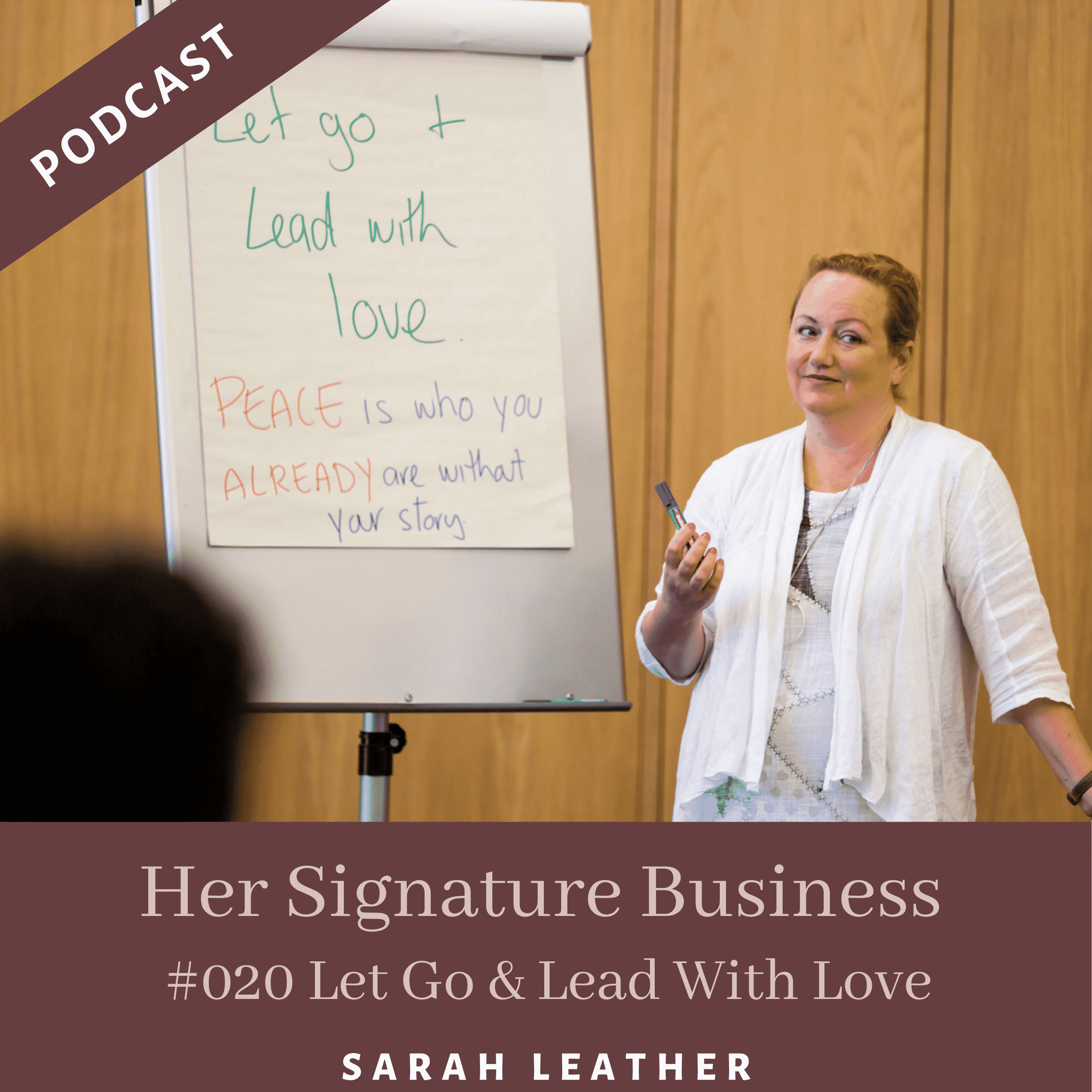 #020 Let Go & Lead With Love
Being the CEO and leader of your business means letting go of what doesn't serve you and leading with love. It's about creating our own mini-revolution, tearing down what's not working and rebuilding with incredible purpose. It's scary, necessary and incredibly powerful.
If you're ready to take aligned action to move your business forward, then look no further than this episode where I share about:
Why quick decisions can often deliver better answers

My line in the sand about what I'm no longer available for

What leadership looks like moving towards the seven figure mark

Why embracing social selling
Read more…
#019 Taking Your Business Online With Signature Programs
For Clinical Hypnotherapists Andrea and Flo, everything clicked into place for their business once they got the right support. Creating their Signature online weight loss program led to better client results, more impact and a healthier bank balance. 
You'll love hearing about:
The power of being in a Signature Program to shift your mindset

How Flo and Andrea

generated multiple income streams

from their Signature program

Why working 1:Many online opens up so many possibilities for you and your business

How fun it can be to do work that you love
Read more…
#018 Your Signature Program Success
Imagine how it would feel to continually fill your Signature program with dream clients.
Wouldn't you love to know how to get them the best possible results so that they turn into raving fans? 
If so, make sure you give this episode a listen and discover: 
The best strategy to 

fill your Signature program with dream leads

Why a 1:Many offer creates 

massive transformation for your clients

 

AND your business

The number 1 mistake to avoid when deciding your group offer 

How you can work with me to 

build out your group program so that your clients get amazing results
Read more…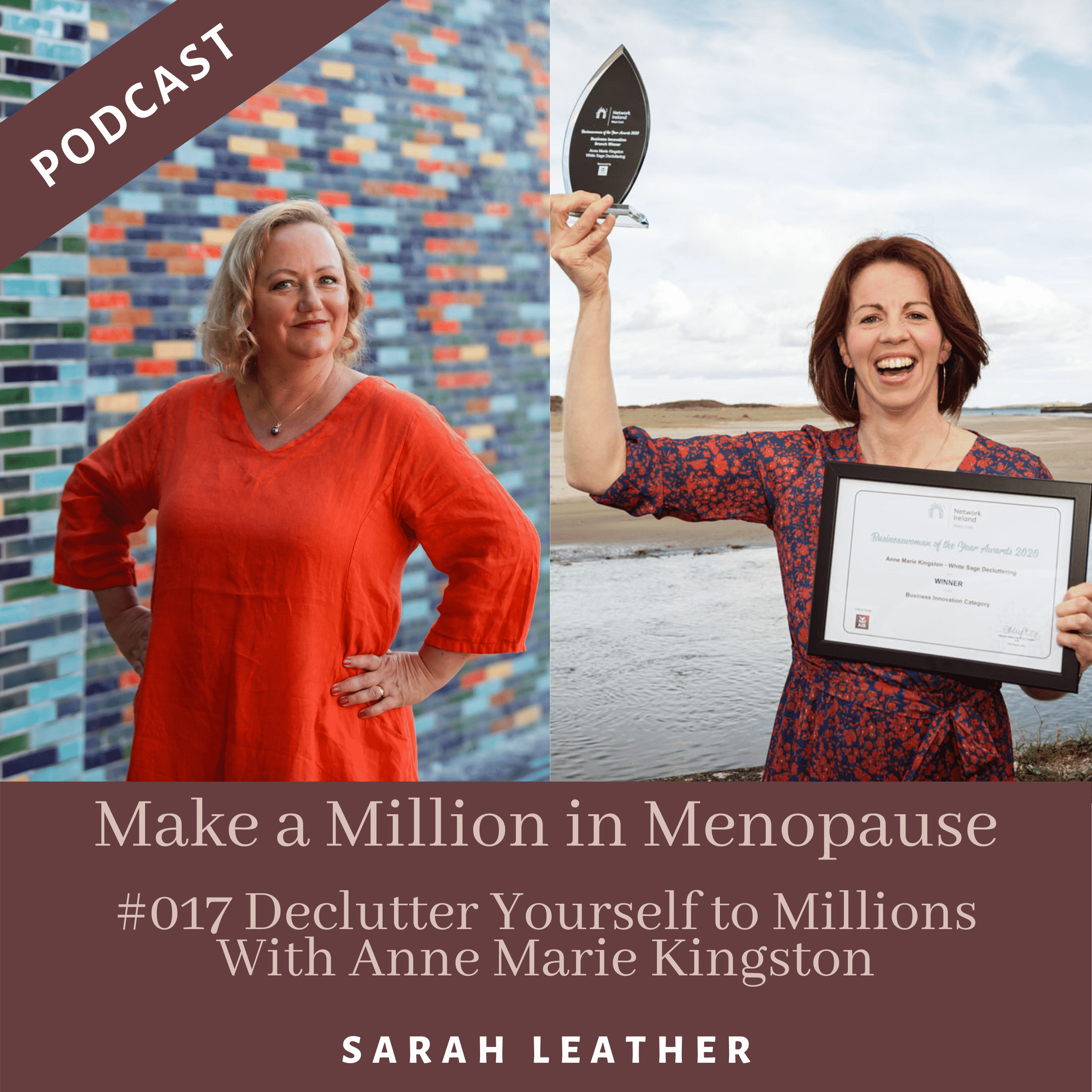 #017 Declutter Yourself to Millions With Anne Marie Kingston
This episode is for you if you've ever wondered what would be possible for you in your business with accountability and the right support. 
You won't want to miss this inspirational interview with my client Anne Marie Kingston, founder of White Sage Academy. You'll love the story of how she pivoted from her hands-on 1:1 decluttering business and launched a thriving 1:Many program.
Press play and discover: 
What led Anne Marie to finally

overcome her resistance to launching her international membership site

How

recurring income allowed her to let go of a big block and fulfill a personal dream

The

support and accountability that come from being part of a mastermind of like-minded women
Read more…
#016 When You Should Go 1:Many
How would you like to make better use of your time, earn more money and impact more people?
If you want to make a million in an easeful way, then you have to leverage and scale your business so you don't get burnt out with the 1:1 model.
Simply press "play" and discover: 
How to tell if a 1:Many model is right for your stage in business

Why

you don't need to have a waitlist or a big audience to fill your group offer

The pivot that helped my client Anne-Marie make fabulous

recurring income in a lot less time (and stop doing any 1:1 work)
A simple strategy for pricing your 1:Many offer
Read more…
#015 Workshop Your Way to Millions
I'm serious when I say that you can literally workshop your way to millions.  When you create your signature workshop it showcases your authority and positions you as an expert in your field. It's also the number one way to fill your packages and programs.
You simply can't afford to miss this episode where I'll be sharing: 
The exact process I used to reach my

first 50K revenue month

A (super-simple) framework to

create a compelling title that overcomes client objections
How my fabulous client generated 10K in income from a 6-week course
Read more…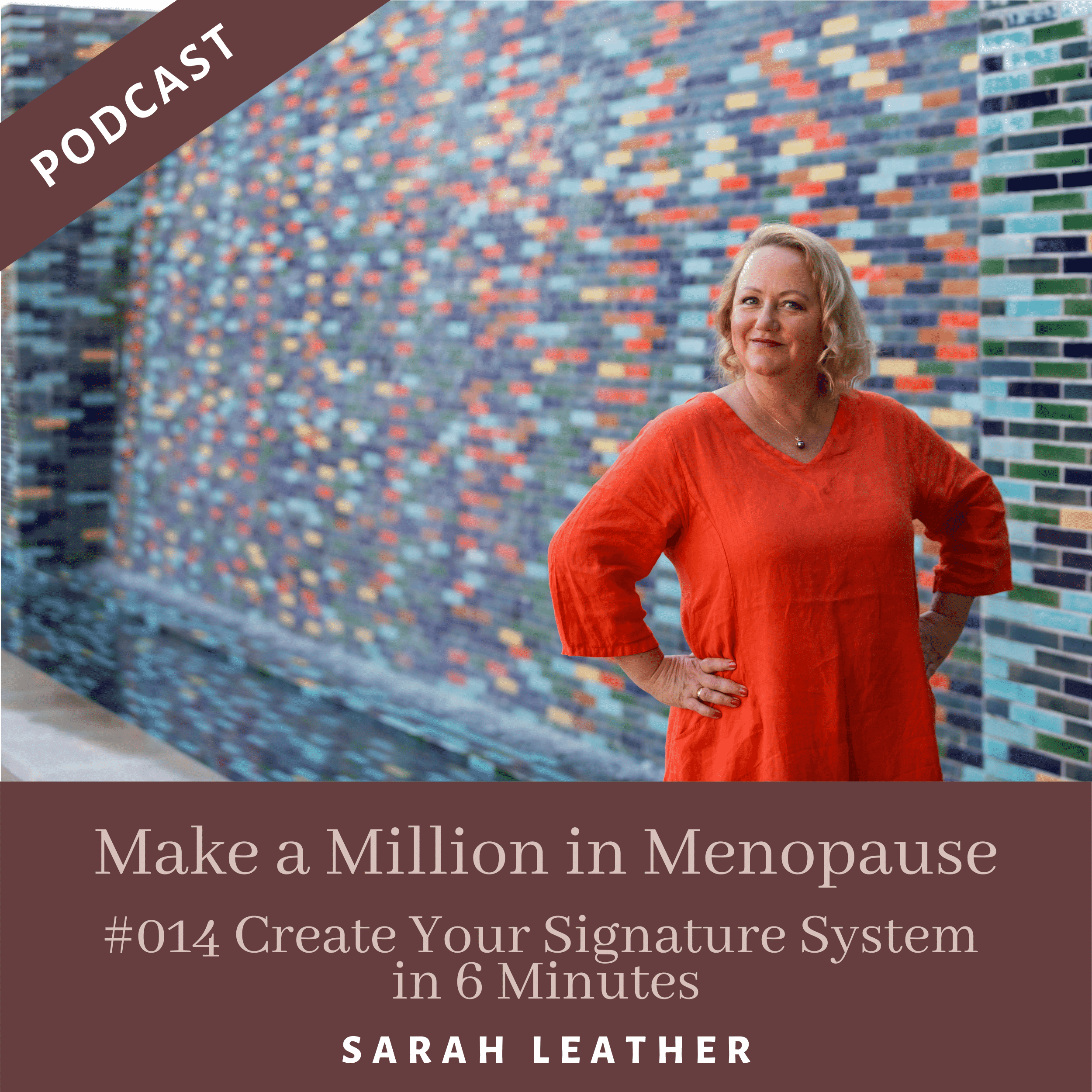 #014 Create Your Signature System in 6 Minutes
This one is for every woman who has ever suffered from marketing angst, fear of visibility or resisted sharing her story because she thought she had nothing of value to say.
Have you ever longed to tell a story that creates a deep connection with your ideal clients?
Or wondered how to identify the exact steps to solve their problems? 
What if you could figure this out in just six minutes in a way that's totally aligned to you and your business? 
I know that's got you pricking up your ears, so tune in, because I'm lifting the lid on: 
The quick and easeful way to

create your Signature System

How to uncover the words that

magnetise your ideal clients to you

(even if you doubt you've got anything of interest to say)

The seemingly unrelated life events that inspired my 3-step process for my group coaching programme

How you can access support to double your income in half the time 
Read more…
#013 Plug Your Leaky Holes!
Do you sometimes feel like as soon as money comes into your business it leaks straight out again? That's because you've got leaky holes! 
I'll be giving you a loving shove and helping you to become aware of the things you are doing right now that are draining your time, energy and bank account and what to do instead.
Once you've become aware of what I like to call your "leaky holes" you'll know what to do next. 
Tune in and get clear on:
The 7 biggest leaky holes in business that you can start to plug today

The seemingly simple (but surprisingly effective) question that 

supercharged my income
The weekly tool my clients and I use to get way more done

How to plug your leaky holes so that you can 

regain control of your time, energy and cash flow AND bolster your bank balance

The deceptively easy daily practices I personally use to ditch my limiting beliefs and choose more empowering thoughts instead
Read more…
#012 Lifestyle Business with Dr. Leila Davis
Time for a loving shove…
How are you going to take exquisite care of yourself in the second half of your life if you're exhausted and broke? 
Would you be satisfied with never having enough money to do the things you really want to? With having to rely on somebody else financially for the rest of your life? Or earning just enough to survive? 
Tune in for a fascinating insight into how my fabulous guest (and client), Dr. Leila Davis, is living proof that menopause is an exceptional time to step up into our power. 
Curious? Press play to discover: 
What happens when you 

follow the excitement,

 have 

fun

 and 

give yourself what you need

 (instead of gagging your inner child and locking her in a back room)

How Leila transitioned from selling low-cost single sessions to  

commanding a much higher price point with grace and ease

The one thing that helped Leila the most to have 

the lifestyle she dreamed of and solid 15-20K months
Read more…
#011 Your Online Business Model to Make a Million in Menopause
It's no secret that I'm on a mission to help as many women as I can to Make a Million in Menopause, whether you want to earn a million a year, or over the next three to five years.
You deserve to be making all the money you want to by doing what you love, in a way that doesn't sacrifice your health or happiness. The last thing the world needs is more broke women burning themselves out.
This episode is a must-listen if you've ever wondered about:
The industry myths that are capping your income level (and what to do instead)

How to create an abundant business model that

serves you AND your clients

The easeful way I

tripled my income, working half the hours, that led to consistent 10K months 
Read more…
#010: 3 Mistakes To Avoid For Online Business Success
 Have you ever felt like no matter how hard you try, you're just not sure you'll ever have a wildly successful online business? The truth is, it can be easier than you think to get your dream clients to self-select to work with you. But it can be so difficult to figure out where you're going wrong on your own. 
That's why I'm getting a little bit personal and sharing about how you can avoid three mistakes I've made that really affected my business.   
If you're in need of a loving shove to get out of your own way and take imperfect action, tune in and discover:  
The simple step I took that led to

regular TV and press coverage

and a fully booked calendar

How I overcame the confidence dip that could have cost me my business

What's really delaying your business success and a shoutout to some

wonderful clients who have got it right 
Read more…
#009: A Loving Shove Out of Your Own Way
Ready to stop under-earning (and over delivering), banish excuses and show up consistently in your business? If so, this episode is for you.
I'm here to help you get out of your own way so that you can make the abundant income that you crave. My clients don't call me the "Queen of the Loving Shove" for no reason! 
Tune into this juicy episode where I dissect: 
Why your brain resists mantras and affirmations and what to do instead

How to overcome your blocks, limiting beliefs and self-sabotaging behaviours so that you can

bring in all the clients that you desire

The thought download that allowed a client to easily

5X her income 
Read more…
#008: One Signature Thing is EVERYTHING
If you're ready to escape the under-earning pickle you've been stuck in for years (where you really need to stick a zero or two on your income to earn what you truly deserve and desire), then you need to listen to this episode! Listen now and discover:
How having One Signature Thing goes much deeper than niching – it showcases your expertise and convinces your dream clients that you can solve their problem exquisitely well 

How refining their offers led to massive wins for my clients such as: earning fabulous residual recurring income every month, honing their marketing (so that they can confidently show up no matter what) and magnetising

 

their

 

ideal clients to them

The 4 steps you need to take to create your One Signature Thing
Read more…
#007: Covid & Clients
In today's episode you'll hear about: 
Why I believe that pretty much any service-based business can continue to thrive even during a global pandemic 

The mistake so many female business owners are making right now (and how to fix it)

How you can step up and serve the people who need your help (even if you are in the newer stages of business)
Read more…
#006: It's Not Too Late!
In today's episode you'll hear about: 
My process to help you overcome all the excuses you're telling yourself about why it's "too late" for you (because that's all they are – excuses and limiting beliefs!)

Why I believe that our 50s, 60s, 70s and beyond are just the beginning

How I shorten the learning curve for women who are looking to begin, grow or scale their online businesses (you can learn from my mistakes!)
Read more…
#005: Being a Creative Entrepreneur with Jen Storer
On today's episode featuring my fabulous guest Jen Storer you'll hear about: 
Jen's experience with gender bias, told with her hilarious personality shining through

How a series of synchronicities and listening to her body led Jen to a turning point in her life where she took a leap of faith that paid off

Jen's business evolution that took her from "starving artist" to successful business woman

What's possible once you get the right support in a business mastermind
Read more…
#004: Gender Balance & Bias in Business
On today's episode you will learn:
Why women still earn less than men

A story about gender bias; what it means to all of us

How to change gender bias, one woman at a time by asking for more
Read more…
#003: Wholehearted Selling
On today's episode you will learn:

Why women find it so hard to sell

What to do before you have a sales conversation (the most important part)

The exact steps to follow to get a 'Wholehearted Yes' from your client

What to do after the sales conversation
Read more…
#002: Why Women Need to Make a Million in Menopause
On today's episode you will learn:

Why I don't love SMART goals

I didn't lose my way, I lost my why

Why you need to set a financial goal, even when you think they don't work for you
Read more…
#001: The Joy of Hormones & Business
On today's episode I'm revealing the truth about hormones, menopause and your business. If you think you should be 'winding down' your business or career because that's the societal norm, then listen up buttercup! 
Read more…
Trailer : Make a Million in Menopause!
Welcome to Make a Million in Menopause Podcast with Sarah Leather. On this podcast you will learn how to get more clients, make more money and have the fun & freedom you crave. It's your time to have the business, body, and bank balance that YOU want.