Growing a profitable business needs to be simple.
All you have to do is show up wholeheartedly, connect with some people and share your heart.
It's actually that simple.
You can walk the path to creating clients. We can walk it together.
I help you with everything you need inside this amazing mentoring program, called Wholehearted Marketing (Business Mastermind for women).
This program will blow your mind with its simplicity and show you what's possible…..

Introducing Wholehearted Marketing
Wholehearted Marketing isn't about rigid rules, vanity metrics, gurus & doing it someone else's way.
Let's break all the rules! You can have fun and make money.
You can learn how to show up, make offers and create consistent 5k months.
There are 6 parts to the Wholehearted Marketing course:
Your Wholehearted Vision & Business Model for Success

Your Irresistible Offer (Niche/Price/Package)

Visibility- How to show up even when you don't want to

Connect with your people & grow your audience

Share your Offers- free & paid (how to get fully booked)

Your Marketing Manifesto- create a blueprint to guide you towards your vision & mission
I am on a mission to help women to stop hiding, stop under-earning & stop measuring their self-worth by their bank balance. 
Because this was me. 
Several years ago I was struggling to get new clients. I was hiding & my confidence was gone.
Once I gave myself a loving shove out of my own way, asked for the support I needed, & started showing up every day, everything changed. It takes strategy and mindset to start & grow your business.
All I had to do was to start showing up as me. I started a daily mindset practice that I'd been using for years with my clients and signed 6 clients at €2500 in a week. That's €15,000 of business. In one week.
You can do this too. 
The simple marketing STRATEGY plus MINDSET gave me the income and freedom I craved and can for you too.
The details
When you sign up for Wholehearted Marketing, you'll receive immediate access to the online course (you can see the 6 parts of the course below).
You can watch the modules that are currently available, watch coaching call replays and dig into your bonus courses.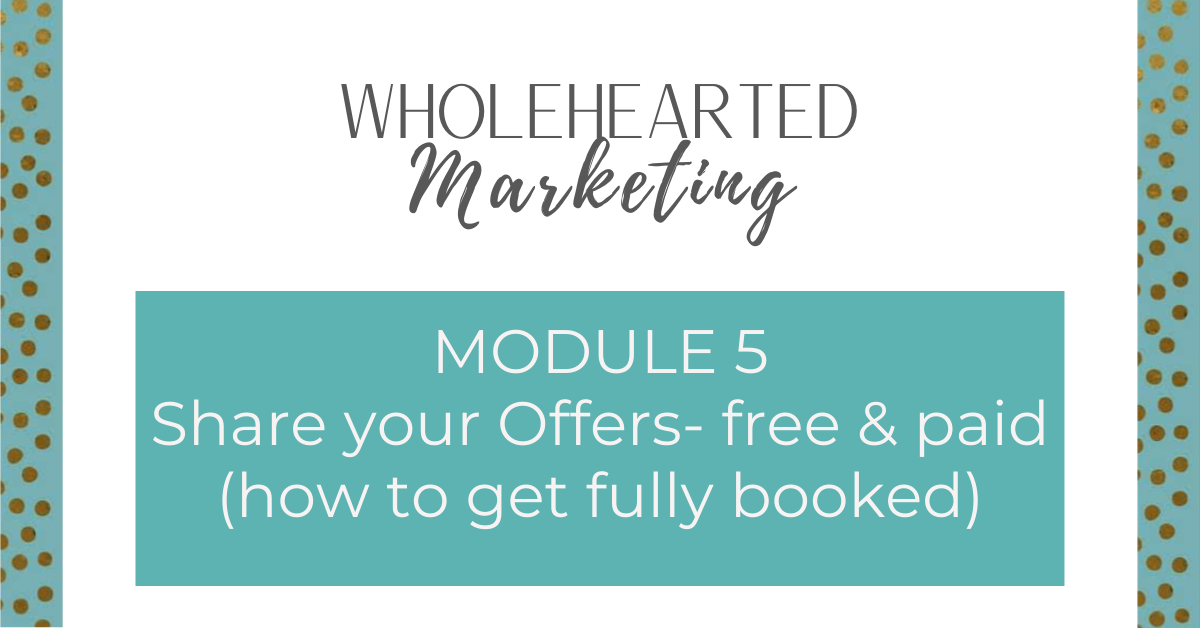 Weekly LIVE Coaching
Whether you're getting coached personally or learning from the coaching of others, group coaching is pivotal to increase your visibility, mindset and marketing skills.
We coach on all the business & marketing things such as visibility, mindset, marketing, pricing, niches, signing your first client or your 100th client.
These calls are packed with value and allow you to connect to a community of coaches on the exact same path as you.
Join LIVE every week, or watch the replay in our member site.
Our Fabulous Community (private Facebook Group)
Whether it's celebrating making your money back, signing your 1st or 100th client, increasing your prices or showing up more & more online, we are here to give you the tools to make it happen. And cheer you on!
No win is too big or small, this is an amazing community that get what it's like to be growing an online business.
Get help with problems, get accountability and support with others who are on the journey. We rise together. 
If you've felt disheartened and that you don't belong in the world of shiny coaches and success stories…
If you've caught yourself thinking that you will never make it because the hard sell approach makes you feel anxious…
Then you will love Wholehearted Marketing.
This is a community where you learn to do things differently. This is where you learn to truly value the work you do, and the positive impact it has on the lives of the people you serve.
Sarah guides you through the process as you learn how to genuinely express yourself, your work and the value you offer in a way that really connects at a deep level with your dream clients.
If you're ready to actually feel proud to share your voice and work with the world , then sign up for Whole-Hearted Marketing.
Future You will thank you- trust me!
Bonus Courses
A Peak Inside Wholehearted Marketing
When I started working with Sarah, I knew to grow my business I had to address my mindset & approach. I hated sales – they made me feel cringey & uncomfortable. 6 months in & my outlook is completely different- I never thought I'd say this but I enjoy sales! I've had my biggest revenue month ever & just beaten that again. Sarah's earth-shatteringly simple tips on productivity, mindset & energy management mean I'm spending less time on my business, more time on me & my family, yet earning more. It's been truly life-changing in a supportive environment of amazing women.
I feel helped and supported. I love that we are learning and growing together, from someone who's been through all of this and can give us an encouraging little shove when required.
I'd highly recommend it, this program has given me my vision, goals and clarity on my message so I can be visible.
Sarah literally made my business grow. In fact, with her systems, she helped me grow my hobby into a business. With her experience, her expertise and her love for businesses and women who love them – she does that.
Thank you Sarah for the gentle, loving shove you keep giving me which has allowed my business to prosper and grow. The ease and peace I feel in my work is priceless. I trained as a wellbeing expert, not a business expert! Your expertise has given my work the turbo boost it needed to get in front of the right clients at the right price. I feel valued and give more value. I recommend Sarah to any business owner seeking to move beyond 'throwing spaghetti at the walls'!
When I first started working with Sarah I was passionate about my business, but I was also scattered and not earning enough. Sarah helped me focus on ways to bring in real income with ease + grace.
She taught me her feminine approach to sales, which I love. With her support and guidance, I was able to turn my business around. In fact, this year I'm on track to double what I earned in my previous academic career. I was doing the work I loved when I met Sarah, but now I'm making money doing the work I love and that means a great deal to me.
 Join Wholehearted Marketing
NOW
You get on-demand access to the 6 Module Course. 
Access to our online community of coaches, consultants, practitioners and therapists. 
Weekly LIVE Coaching & Mentoring.
Live Weekly Mindset & Planning Sessions (including co-working time to get it done!) each Monday to set you up for a powerful week.
And all the bonus training and courses in our members site.
Your Investment for 12 Months Access to Everything:
1 payment of €2500 OR
10 monthly payments of €250 OR

JOIN NOW AND GET THE LAST MONTHS OF 2022 AS BONUS TIME, WITH YOUR 12 MONTHS ACCESS STARTING ON 1ST JAN 2023
Got questions?
Want to know if Wholehearted Marketing is the right program to get you fully booked?
How do I know if this will suit my business?
This program suits all service based businesses such as coaching, consulting, health practitioners and therapists.
What if I'm still working in a job?
Many of our participants are working. You will need 1 hour a day max to get the best results in this program. 
What if I'm in a different time zone?
The live calls take place at various times to suit different time zones.
What if I can't make it all the calls?
That's no problem. You can pick 1 to 2 calls a month to attend live or watch the replays.
How long is the program?
You get lifetime access to the program. Lifetime means for as long as the program exists and a minimum of 12 months. 
What if I'm not good at tech?
re you ready to

finally

grow your business?




Here's a recap:
€2500 pay-in-full
Or 10 monthly payments of €250

Weekly

business/mindset coaching calls

to skyrocket your visibility and help get you fully booked.
Live Weekly Mindset & Planning Sessions each Monday to set you up for a powerful week.
 

Membership site

with all the Wholehearted Marketing Modules & your treasure trove of goodies.
Bonus trainings and masterclasses

to help you with the mindset you need, to get the support you need, to have the success you crave.
An amazingly supportive community in our private FB group
Bonus courses including Course Creation Bootcamp

12 Months access to EVERYTHING
JOIN NOW AND GET THE LAST MONTHS OF 2022 AS BONUS TIME, WITH YOUR 12 MONTHS ACCESS STARTING ON 1ST JAN 2023
Would you like to scale your business past 5k to 10-20k months?
Inner Circle
is coming in September 2022